In most areas where we live, Autumn is at peak color or on it's decline now. As we step out our front door, we are greeted with a medley of leaves and a scene that indicates a change is in the air. At this point our senses are starting to be overcome with everything Fall.
Portland Japanese MapleThis famous Japanese maple tree is located in the Portland Japanese Garden. It only stands a little over 4 feet tall. Photographers travel from all over to capture its beauty in autumn. On a busy weekend there can be a line of 10 or more photographers waiting to take their turn capturing this amazing tree. In its peek color, the maple has a canope of red and orange leaves that filter out most of the light. The light is at its best in early afternnon when all the leaves are back lite and they seem to glow. While this tree is the most famous attraction in this Japanese Garden, it isn't the only. There is beauty every where.
The soft crackle of of leaves under foot to the ever distinct smell of fall which may be a combinations of rain, foliage and weather. Our traditional senses take in everything at light speed with sight, sound, touch, smell and yes, even taste. What our senses do with this information impacts how we perceive the event know as Autumn. Everyone that I talk too loves some aspect of fall. It maybe be the colorful foliage to the change of weather. I really think that fall affects our senses more than any other season. As I talk to people about their every day activities or even the upcoming holidays, more commonly than not, a feeling brought on by fall comes into the conversation. It may be how there is a chill in the air and they are bundling up more to going to the park to enjoy the season, to the type of food they are now cooking. As the season progresses our minds are stimulated and overwhelmed with everything Fall creating all sorts of emotional attachments to the season and what lies ahead. As a photographer, I also try to keep the traditional senses in mind when capturing fall images. I hope when people are viewing an image, all those senses are stimulated once again through all the elements they see and all those positive and happy thoughts about the Autumn are relived.
Autumn EuphoriaTucked away just out of sight by most that pass by is as spot that depicts everthing I love to see in fall. Changing colors of leaves, cascading water all highlighted by moss. With all the big waterfalls as the attraction in Silverfalls State park, many times places like this go unnoticed and are preserved for the few that discover it.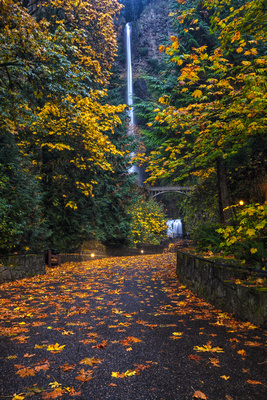 Path to Multnomah FallsThe main pathway that visitors use to view Multnomah Falls.
I hope you are finding time to enjoy fall and take in all that this incredible season has to offer. All of my images are available for purchase on this site and at Fine Art America .
Please feel free to leave comments. I also encourage you to join my email list and visit and follow me on Facebook and Twitter where I not only post new work but sale info and discount codes.