As I was thinking about ideas for blog posts it came to me that it was time for me to reveal a little something about me as a photographer. Pull the curtain back as they say. Not too far but just enough to give you a little more of an idea of who I am. So, I thought I would share a few of my favorite things that I like to photograph.
The first one that always gets me excited is waterfalls. As far back as I can remember I loved waterfalls. As a kid when my parents would take me on hikes I struggled at about 5 minutes in. I was tired, bored, and wanted to go back. But if I knew there was a waterfall, I would race you there. I could not wait to see it. As I got closer and could hear the roar of the falls the excitement was overwhelming. I was a cautious kid but something about waterfalls would draw me in. I would explore all around and could spend what seemed like hours. But when it came time to leave, it was not met with the same enthusiasm as the trip to the falls. Mostly because a majority of the hike back was uphill.
Autumn EuphoriaTucked away just out of sight by most that pass by is as spot that depicts everthing I love to see in fall. Changing colors of leaves, cascading water all highlighted by moss. With all the big waterfalls as the attraction in Silverfalls State park, many times places like this go unnoticed and are preserved for the few that discover it.
Fast forward to today and as a photographer I still have that same child like enthusiasm for Waterfalls. There are so many things that draw me in to a waterfall. First off, the overall beauty of the surrounding area is the first thing that hits me. I am just overcome with all the natural beauty and how the waterfall just enhances everything around it. Next, each one is different. Some big, others small, some are in the open others on the side of the mountain. No waterfall is the same. Plus throughout the year, it can change as well. An example of this is in Glacier National Park, there is a waterfall known as running eagle falls or trick falls that has two distinct looks.
Fern FallsOne of two small but amazingly beautiful waterfalls tucked away in northern Idaho. First, the drive up the north fork of the Coeur d'Alene river is work the trip all by itself. Then after a short drive on a very rough forest road you reach a small parking lot. Only a short hike brings you to Fern falls and a little farther past, Shadow Falls. Both are located on the tributary of Yellow Dog Creek. Perfect for a short walk and maybe a picnic. Ever since I first saw pictures of this waterfalls I have been planning, dreaming of a trip to this place. Not knowing what to expect when I actually get there, I knew there would be some great potential for some quality photos. The surrounding forrest really makes this image, filtering the light even during the brightest part of the day. The biggest issue was the force of the falls created breeze that blew the some of the branches and vegetaion around. I did want to capture a little motion but I didn't want the image to have a lot of bur. Most of this work was taking several exposures in post production and hand blending them to give me the final image that I had envisoned.
In the spring when the water flow is high, the falls comes over the top. But when the water flow lessens it drops through a hole on top and comes out under the usual drop off creating a smaller waterfall. The other thing that I just love about waterfalls is the sound. The power generated from the water dropping and hitting the pool below. There is just so much mystery that surrounds each and every waterfall I travel to. As a photographer my challenge is to first try to capture the beauty that nature has created. I want to share this with everyone I can. Then I want to explore every inch of the falls. I take images from all angles and find a view that someone hasn't already done yet. Then at some point, I stop taking pictures and just take it all in. There is something so calming and relaxing about waterfalls to me. There is a place nowhere like it. I try to visually capture the area and moment as well.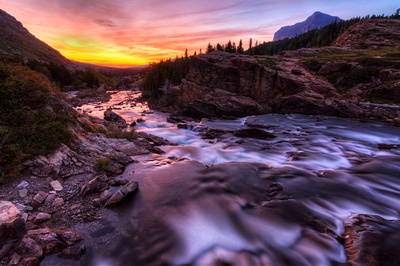 Falls at First LightSwiftcurrent falls, one of the spectacles of Glacier National Park.
Partly to help when I work up my photos but also because there are just moments that can't be captured in a photo, so I want to remember and feel it later. I guess I could say waterfalls are a muse and inspiration to me. Like a beautiful model that has taken an eternity to look perfect for a photo shoot, I feel I must do it justice and capture all the beauty of the waterfall to the best of my abilities.
Avalanche FallsOne of the more iconic areas on the west side of Glacier National Park is Avalanche Falls. Located in an old growth cedar forest, this picturesque gorge is carved out by Avalanche creek. Avalanche lake feeds this creek. The glacier silt from the melting snow and ice in the mountains creates the beautiful aqua blue color in the creek.
I know there are many that share the same allure to waterfalls as me but for different reasons. For me, they are so much more than just a great subject to photograph. Please feel free to leave comments. I also encourage you to join my email list and visit and follow me on Facebook and Twitter where I post my latest work and sale info with discount codes. All of my images are available for purchase on this site and at Fine Art America.