As I look ahead to figure out where my photography will lead me this year I first look back at what I have done last year. For me it was a huge year in growth and finding my identity as a photography. This is so important to me in helping me figure out my next steps which will be huge.
As I look back I had some great trips and adventures but I also focused a lot on what I have in my own backyard. The Pacific Northwest has so much to offer. From the roadside traveler to the backwoods adventurer, the sights are endless.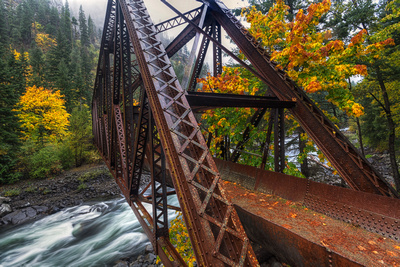 Autumn and IronNested in the east side of the north cascades of Washington State is Tumwater Canyon. There is a lot of history associated with the early days of the railroad. Today it is also know for great folige color when fall rolls around. This is the pipleline bridge, which is now part of a trail that follows the Wenachee River to a dam that was once used to power electric trains through the cascade tunnel. For me, it is the perfect setting for amazing fall photos.
Silver Falls Historic DistrictNestled in the Willamette valley, Silver Falls State Park in Oregon is unique and special place. Where the South Falls Lodge and outbuildings stand today is where a once small community called Silver Falls City use to reside. Around 1883, about a dozen families called this town home for about 40 years. The Great Depression had a huge effect on Silver Falls City it soon was no more. But the Civilian Conservation Corps was brought in construct buildings, bridges trails and other infrastructure. This was the beginning of Silver Falls State Park. Today, it is one of Oregon's most visited parks with many of the structures listed on the National Register of Historic Places.
Even closer to home, practically right out my door, is the unique and awe inspiring Palouse. But this year I wanted more than just landscape images of this beautiful area, I wanted more photos of how the land is actually worked. The crops, the harvest and the people. I accomplished some of that but I do have a lot more to work on.
Palouse in SpringStart with a unique landcsape of rolling hills for farther than the eye can see. Next, cover those hills with various natural texture patterns and color shades. Then, add great natural light. Yes, this is a landscape photographers Heaven. The golden hour on the Palouse in Eastern Washington turns the extraordinary into an amazing beautiful scene like no other. To photographers, this is Art. But for the farmers of this rich land, it is a symbol of their hard work.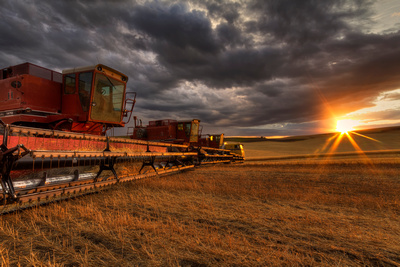 Days EndJust outside of Cheney, in Eastern Washington farmers scramble to get thier harvest in. They are not just racing against daylight on this day but also storms the can drop large amounts of rain or even hail that can damage crops. On this day rain did cut short the harvest. Hopefully it we dry out for tomorrow. This farmer is working on his barley crop.
So, to get a little more inspiration and drive for the coming year I have created a slide show video of images from all my photography adventures from last year, 2014.
2014 A Year In ReviewImages from my photography adventures in 2014
I hope you enjoy it and as always, my images are all available for purchase in my gallery. You can also follow me on Facebook and Twitter.
Thanks for looking,
Mark Kiver