Early Morning ChillA cold fall morning, a creek carring run off from the Geo thermal springs and fountains runs through a dead forest. Mist from the creek creates ice crystals on the grass all backlite by the sunrise.
In 1935, American Eastman Kodak invented a tripack color film they called Kodachrome. This wasn't the first color film to it was a big step towards modern color film and prints. For many years black and white was still preferred mostly to the cost of developing color. It wasn't until the late 1960's and early 1970's that color film and prints became the norm for photography and black and white slowly faded away.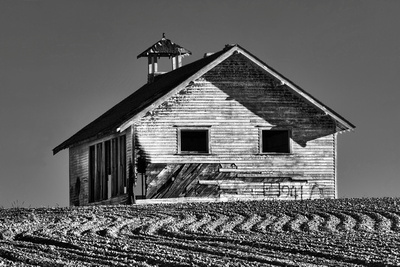 Highland School HouseLocated just off US Highway 2 in Eastern Washington, The Highland Shool House sits in wheat field. Also known as the Baird Shool, this one room school house has seen better days. One of the many interesting sights one can see on the backroads of rural Washington.
Many people now days prefer color photography. With the exception of a few the art of black and white photography has faded. Yes, most everyone sees in color so I understand why they would prefer images in color. As photographers we tend to cater to what the public wants. It helps us sell more. Besides, if the image isn't in color how are we to enjoy a beautiful spring landscape of wildflowers or the different vivid uniforms of teams during a sporting event? We love that "pop" of color. It draws us in to the image and makes us say "wow". It also blinds us.
I have to admit, the majority of my galleries are of color images. My preferred style is dramatic landscapes with dynamic lighting and color. But if we strip away all that color, we can really what the image is made of. Many times we don't see the true essence of an image until we view it in black and white. Without color we now focus on the composition, the light and how it falls on the subject and creates shadows. And what really stands out for me in black and white is the textures and patterns.
So here is my challenge to you: when you look at a black and white image, explore it. Go beyond the surface and see what you feel. Examine it. Let it take you in. Many times the story can be so much richer.
I know you may still love your color photos and feel they offer more than a black and white image would. Still, try viewing several black and white image to notice all the elements in the image. I think you will be surprised. The final images at the end are a comparison of the same composition. One in color and the other in black and white. I really love the story the color image tells but I like the black and white image more. Study both of them for yourself and see what you find.
Hint:click on the image to open in it in a larger version to enhance your viewing experience.
Please feel free to leave comments. I also encourage you to join my email list and visit and follow me on Facebook and Twitter where I post my latest work. All of my images are available for purchase on this site and at Fine Art America.